One-on-one counseling sessions are very effective to work on a variety of difficult or consequential decisions. Some examples: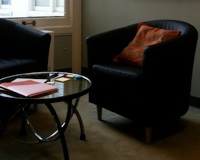 What kind of living situation would be best for me (and my bank account)? Buying a house? Having roommates? An intentional community? Renting? Renting something else?
Should I go to school again? Where? What else could I do for my career?
Should I sell or restructure my business?
Should I move to Hawaii?
What car should I buy?
Couples are often facing special kinds of challenging decisions, such as:
Do we want to have (another) baby, and when? Would adoption or a foster family be the right choice for us?
Should we try to have an open relationship?
What kind of dog would be best for our family, if any?
Organizations and groups, such as work teams or families, may work on issues such as:
What should we do with the house we inherited?
Should we merge our start-up business with a bigger company?