Counseling
One-on-one counseling sessions are very effective to work on a variety of difficult or consequential decisions. Some examples: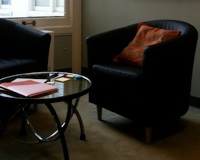 What kind of living situation would be best for me (and my bank account)? Buying a house? Having roommates? An intentional community? Renting? Renting something else?
Should I go to school again? Where? What else could I do for my career?
Should I sell or restructure my business?
Should I move to Hawaii?
What car should I buy?
Couples are often facing special kinds of challenging decisions, such as:
Do we want to have (another) baby, and when? Would adoption or a foster family be the right choice for us?
Should we try to have an open relationship?
What kind of dog would be best for our family, if any?
Organizations and groups, such as work teams or families, may work on issues such as:
What should we do with the house we inherited?
Should we merge our start-up business with a bigger company?
Set up an appointment or get more information.
Coaching – Setting and Achieving Goals
Most of us are not as efficient and productive as we would like to be, and struggle regularly with procrastination and lack of motivation. It is inherently difficult to manage our time optimally, to follow through with our plans and to stay focused.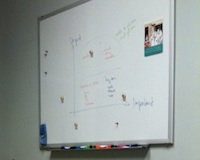 As a result we may feel guilty and find it hard to relax and fully disengage from work during breaks, which again is detrimental to our productivity in the long run, leading to a downward spiral of stress, guilt and underachievement.
If this sounds familiar, one-on-one coaching can help you set goals and achieve them. Depending on your situation and your obstacles, we may work on issues
such as:
finding motivators, creating visions
setting up realistic and healthy schedules
setting and meeting your own deadlines
finding your personal procrastination triggers and tackling them
eliminating distractions
increasing focus and concentration
gaining conscious control over procrastination habits
finding reward structures that work for you
becoming a compassionate boss for yourself
experimenting with different work strategies
finding creative solutions to overcome obstacles
I employ methods from different schools of thought that are evidence-based and proven to be efficient for achieving goals (e.g., cognitive behavioral, mindfulness-based, decision-analytic, value focused, creative thinking and problem-solving techniques).
Set up an appointment or get more information.
Mediation – Conflict Resolution
Sometimes people want  – or need – to make a decision together, even though they may have fundamentally different goals and interests. Mediation is a conflict resolution process, where a neutral, third party (the mediator) guides the process and assists in reaching a peaceful agreement.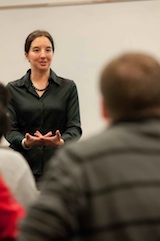 Mediation is much less expensive and quicker than adversarial approaches (grievance processes, hiring attorneys, etc).
A mediator provides a safe environment, creating trust and understanding, and improving communication and problem solving skills.
Mediation is voluntary, private and confidential.
Only the participants can make a decision. The mediator has no authority and makes no decisions. The parties and the nature of the conflict determine the specifics of each mediation process – who participates, how many sessions, what constitutes an acceptable agreement, etc.
In my mediation approach, I emphasize creative problem solving more than negotiation and compromises. My approach therefore works best if all parties are willing to consider new ideas and think harder and further. It is surprising how often the best solutions are not the ones that first come to mind.
Find out more about what kind of mediation might work for you.
Workshops – Talks

In my workshops you can learn some hands-on tools that can improve and support decision making in general.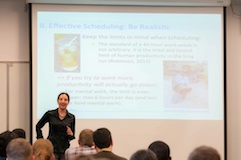 Examples of special topics and targeted audiences:
Making decisions as a couple – how to turn differing opinions into creative solutions
Reaching consensus decisions as a team – learn to formalize a group decision process
Creative thinking and problem-solving techniques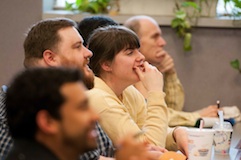 I also offer specialized workshops to fit your needs if you are a group
of at least six people.
Get information about upcoming workshops or find out more about tailored workshops for groups.